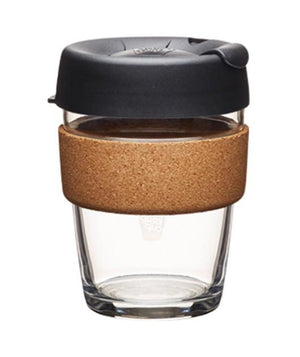 Keep Cup
Sale price Price $38.00 Regular price Unit price / per
KeepCup is the ultimate reusable takeaway coffee cup, which replaces the need for paper cups. This is the Changemakers edition, a tribute to the everyday changemakers, empowered by the knowledge of the enormous difference many small acts can make.
Sourced from a sustainable cork forest in Portugal, the cork band is light, antibacterial, biodegradable, protects your hands from heat, and is fully natural. With a glass cup, this is the ultra-premium version of KeepCup.
The KeepCup Brew Cork is a glass KeepCup, made from soda-lime fully tempered glass. This is a design-piece, which includes touches such as a frosted etched glass logo, internal volume markings, and a redesigned hard lid with a bigger mouth opening - allowing you to fully enjoy the aroma and texture of your drink.
Coffee drinkers love KeepCups because they are spill-proof, and have a beautifully designed plug to open and close the lid.
This is the 12oz Glass Cork KeepCup.