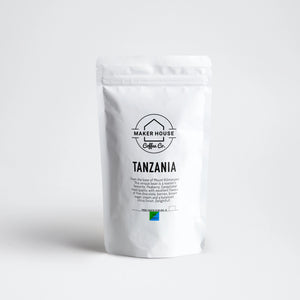 Tanzania Peaberry
Sale price Price $16.95 Regular price $16.95 Unit price / per
From the base of Mount Kilimanjaro this unique bean is a roaster's favorite, Peaberry. Peaberry develop as smaller beans, that are hand separated from the typical flat beans. Because of their round shape, they roll easier in the roasting chamber, allowing for a more uniform roast. They are a medium dark roast. 
Cupping Notes: This exceptional roast quality provides excellent notes of fine chocolate, berries, brown sugar, cream, and a balanced citrus finish. 
The producer of this bean is from APK (African Plantation Kilimanjaro) a part of Oro Molido a family owned and operated world class coffee company and foundation, dedicated to education and empowerment of the local people and communities.